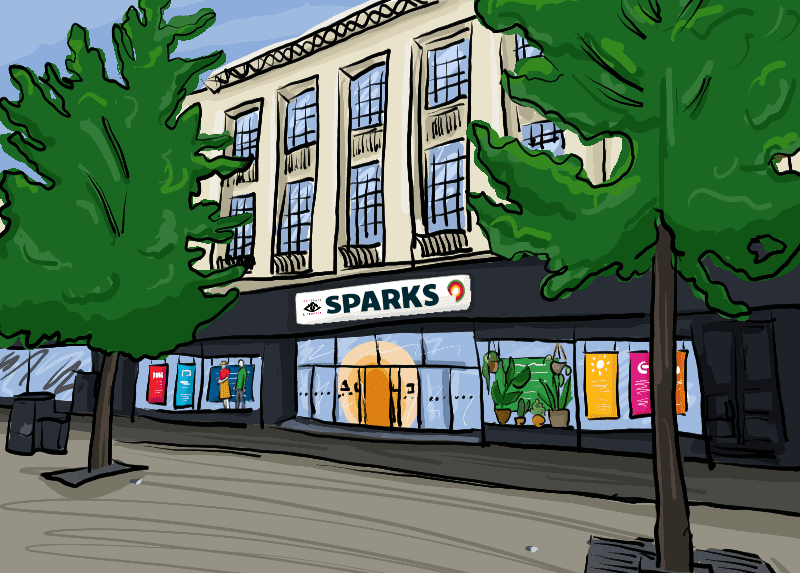 A Sustainable Hub in the Heart of Bristol
Global Goals Centre and Artspace Lifespace are delighted to announce that they will be working together to create an exciting new arts and sustainability hub in Broadmead - Sparks Bristol. 
Breathing new life into the old M&S building on a 'meanwhile use' basis until the site is redeveloped, the ambition is to create a vibrant, positive venue where local people and visitors can shop, recycle and explore what a greener, fairer and creative future could look like. 
Click below to find out more about the project and how you can get involved or donate to support Sparks Bristol.
Voices: Art is Refuge
Celebrating the work and creative resilience of Bristol-based artists from the refugee and migrant community.
Groundbreakers
An exciting competition across Bristol to inspire and equip young people to take action for climate and social justice.
Creating Sparks Bristol – a project update
We've been busy working with Artspace Lifespace to make Sparks Bristol a reality. Find out how the project is coming along from John Hosken.
Mya-Rose Craig, AKA Birdgirl, shows support for Sparks Bristol
Global Goals Centre Ambassador Mya-Rose Craig, AKA Birdgirl, shares support for Sparks Bristol.
Arts for Advocacy Exhibitions
Explore recorded walk throughs of exhibitions aiming to foster creative engagement with forced displacement in Morocco
Idealist: Professional and Educational Opportunities in Sustainability
A platform for discovering jobs, internships, volunteering & educational opportunities in the sustainability sector.