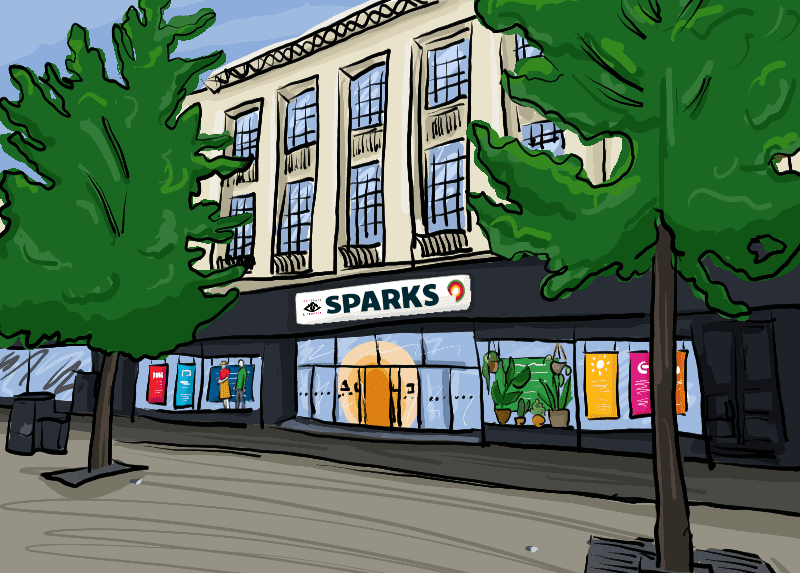 A Sustainable Hub in the Heart of Bristol
Global Goals Centre and Artspace Lifespace are delighted to announce that they will be working together to create an exciting new arts and sustainability hub in Broadmead - Sparks Bristol. 
Breathing new life into the old M&S building on a 'meanwhile use' basis until the site is redeveloped, the ambition is to create a vibrant, positive venue where local people and visitors can shop, recycle and explore what a greener, fairer and creative future could look like. 
Click below to find out more about the project and how you can get involved or donate to support Sparks Bristol.
This project celebrates the work and creative resilience of Bristol-based artists in the UK's refugee and migrant community. Like migration, arts and crafts are as old as humanity. They transcend language and cultural barriers, opening doors to new possibilities for sharing and expression.
Join us to celebrate thousands of artists who leave their home each year in pursuit of freedom. Their routes are varied and experiences are diverse but they all have one thing in common: their refuge in art.
Groundbreakers
An exciting competition across Bristol to inspire and equip young people to take action for climate and social justice.
Threads Game
Our interactive game takes you on a journey that reveals the impact of fast fashion on people and planet.
A wide-ranging resource hub for students, teachers and anyone else with an interest in geography.