Mya-Rose Craig
Mya-Rose Craig is a 20-year-old British-Bangladeshi birder, race activist and environmentalist campaigning for equal access to nature, to stop climate change and biodiversity loss, and to ensure global climate justice, all of which she believes are closely interlinked.
In June 2022, Mya-Rose's memoir Birdgirl, in which she shares how she found her voice and joy through birding during a deepening family mental health crisis, was published by Vintage Books. Her first book, We Have a Dream, highlights 30 young global environmentalists of colour and has been nominated for Discovery Book of the Year at the 2022 British Book Awards.
When Mya-Rose was 11, she started her popular Birdgirl blog and at age 14 she launched the charity Black2Nature, which focuses on engaging VME communities with nature. At age 17, she became the youngest person to see half the world's bird species, and also to receive an honorary Doctorate of Science from the University of Bristol in recognition of her pioneering campaigning work. In February 2020 she shared a stage with Greta Thunberg in front of 40,000 protestors and in September of that year she travelled to the Arctic with Greenpeace, for whom she is an Oceans Ambassador, and took part in the most northerly Youth Strike for Climate. In November 2021 she spoke at COP26 on a panel with Emma Watson, Greta Thunberg and Malala Yousafzai.
The other causes closest to her heart are connecting everyone to nature so that they can care about fighting to avert the climate crisis. She campaigns against palm oil and plastic pollution and she fights for the prioritisation of the human rights of indigenous peoplesas a Survival International Ambassador. Her activism is informed by a life-long love of birds and the fight against racism. She writes articles and delivers speeches and talks as well as appearing on TV and in the media.
"I become a patron for the Global Goals Centre because the United Nations target of 17 Sustainable Development Goals (SDGs) are really important to me because they set out the better world that I want to see for everyone on our planet. I'm very excited for the future of the Global Goals Centre, I'm very excited for all of the young people that it's going to educate and I'm very excited for the future of the planet too."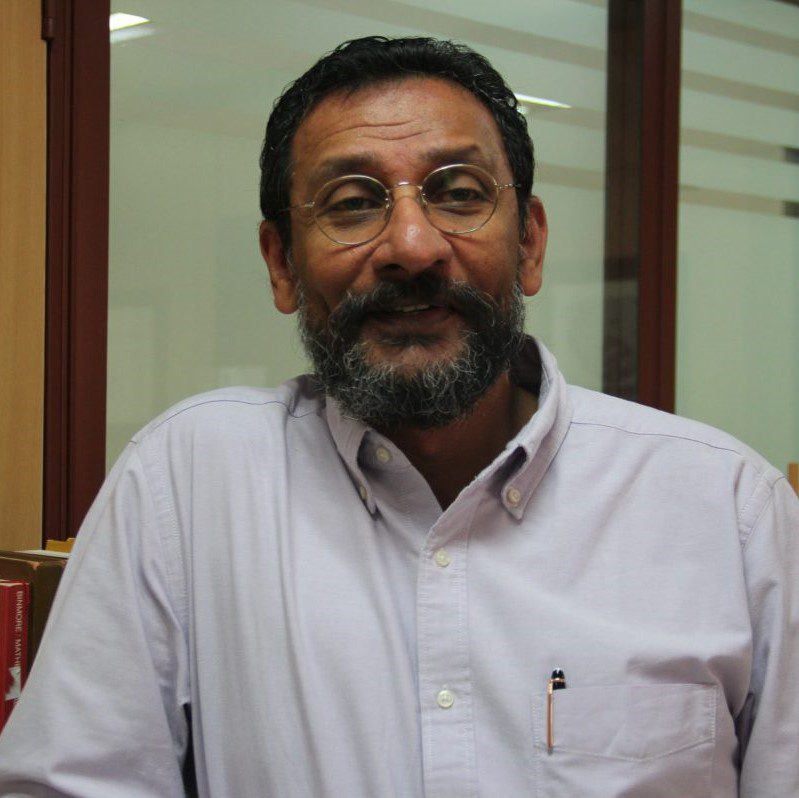 Anantha Duraiappah
Anantha Duraiappah took the position as inaugural Director of the UNESCO Mahatma Gandhi Institute of Education for Peace and Sustainable Development (MGIEP) based in New Delhi, India in 2014. In his previous post at the United Nations Environmental Programme (UNEP), he initiated and played a pivotal role in the establishment of the Intergovernmental Science Policy Platform on Biodiversity and Ecosystem Services (IPBES).
Dr. Duraiappah is presently focusing on strengthening the science-policy guide in Education by researching and exploring how the neurosciences of learning can contribute to developing emotional & intellectual intelligence through innovative digital pedagogies.
"The Sustainable Development Goals (SDGs) of the United Nations are truly a unique achievement for humanity, addressing issues and concerns that are universal as opposed to just being limited to some countries. We must realise that we all live together in one precious and beautiful planet. We cannot possibly maintain the beauty and the well-being of our planet if we do not act collectively, and be kind and compassionate towards each other.

The Global Goals Centre strives to address three overarching objectives of the 17 SDGs; putting an end to extreme poverty, fighting inequality and injustice and tackling climate change. The focus on these three objectives is what attracted me to the Centre and inspired me to be a part of its team. In addition, the emphasis on working with youth as active agents of change resonates with my own passion and belief that our future is dependent on the voices of the young. I look forward to working with the Centre as we collectively work towards making the SDGs a reality."